Barebarics, a subsidiary of the renowned brand Be Lenka, is known for its contemporary urban sneaker designs that attract a younger audience. They have now launched a special shoe designed for summer outdoor adventures, featuring a modern city design that can effortlessly transition from the trails to the city streets.
As we delve into this comprehensive review, we will explore the distinctive features, materials, and barefoot properties that distinguish these shoes from the competition, enabling you to fully embrace the trail and embark on endless exploration.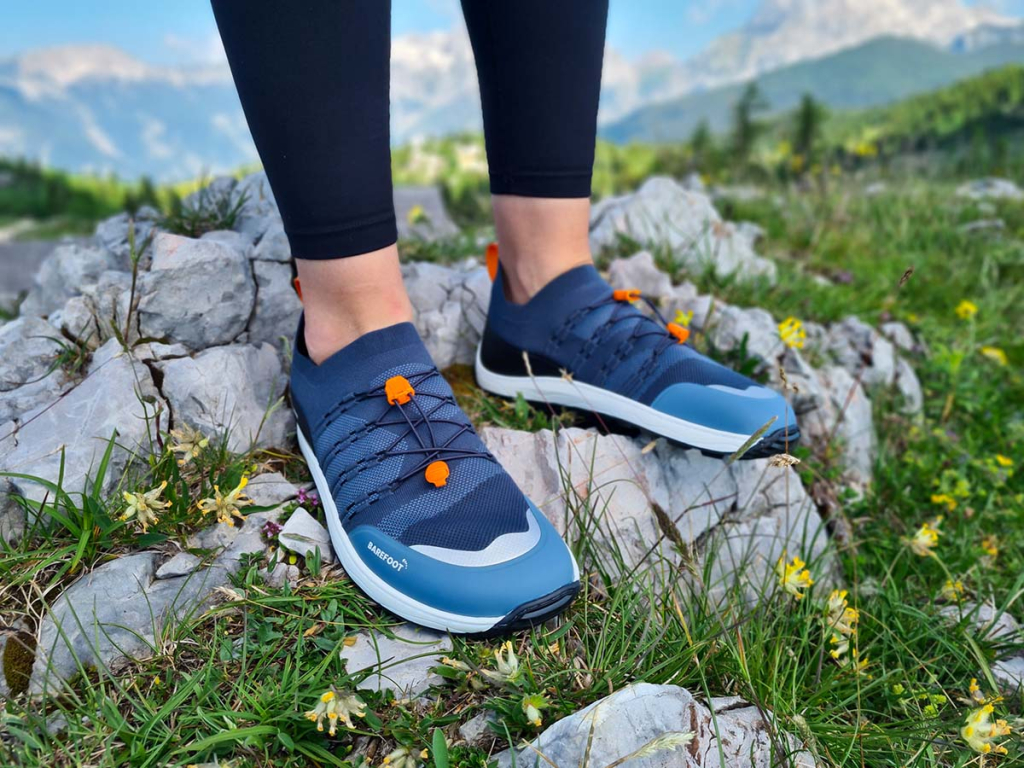 Disclaimer: Please note that Barefoot Universe is reader supported. We may receive commissions on products purchased through affiliate links or affiliate codes in our content. This in no way affects our reviews or comparisons, which are based on objective analysis and our honest opinion. We appreciate your support! Learn more here.
Use BOSENOGICE for 5% discount
1. General
Brand: Be Lenka/Barebarics
Model: Voyager
Colour: Dark Blue & White, Beige & White
Tested on: woman, medium-wide feet, 26.3 cm long and 10 cm wide, low instep, skinny ankles with narrow heel, fin-shaped foot (see our how to measure guide and foot type posts) – wearing size 42
2. Material characteristics
2.1 Upper
The Barebarics Voyager shoes feature an elegant color scheme that seamlessly blends into natural and urban environments, offering four available colors to suit various preferences. For a vibrant summer look, we opted for the darker Blue & White and Beige & White options.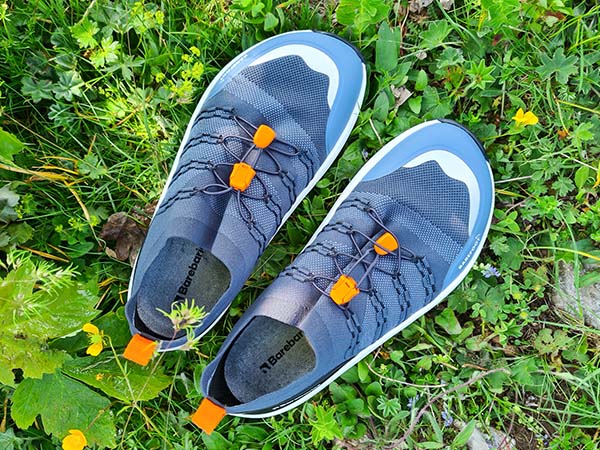 One of the standout features of the Voyager model is its upper, expertly crafted from breathable knitted fabric. This lightweight material ensures optimal comfort, particularly on warmer days, making it ideal for dry hiking conditions. The mesh material offers just the right amount of stretch, allowing for easy slip-on while maintaining stability during walking, preventing the foot from sliding from side to side.
Equipped with practical elastic laces and a stopper for precise adjustments, these shoes can be effortlessly customized to provide an optimal fit for your feet.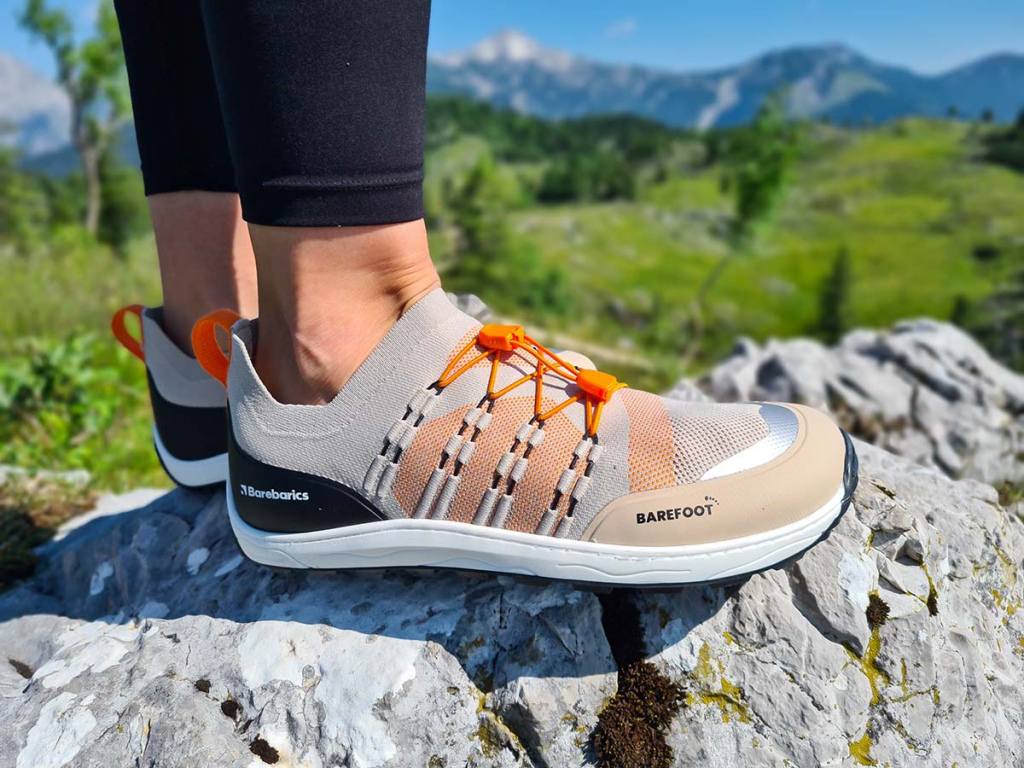 To enhance safety during low-light conditions, the Barebarics Voyager shoes incorporate reflective details on both the forefront and the heel. This thoughtful addition significantly improves visibility, allowing you to embark on outdoor adventures with confidence, even as the sun begins to set.
Additionally, the Voyager shoes are designed with rubber protection on the heel and forefront, effectively safeguarding against mud, gravel, rocks, and roots, ensuring durability and longevity on various terrains.
2.2 Lining
The Barebarics Voyager shoes do not feature any additional lining inside. The breathable knit upper is thin, providing optimum comfort, especially during hot, dry summer days, making them ideal for hiking in warm weather.
The removable insole measures 6 mm in thickness and is composed of Terry Cloth and memory foam. This combination offers a comfortable and cushioned feel, ensuring a pleasant walking experience throughout your outdoor adventures.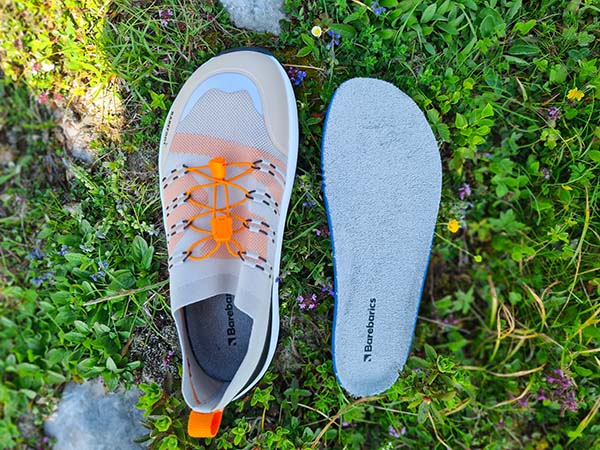 2.3 Sole
The Barebarics Voyager shoe showcases the brand's signature PathGrip sole, with a thickness of 4 mm and additional 4 mm lugs. The deep lugs provide good grip, ensuring stability while walking on various surfaces. While the thicker sole slightly reduces flexibility, you can still enjoy freedom of movement and roll them in all directions.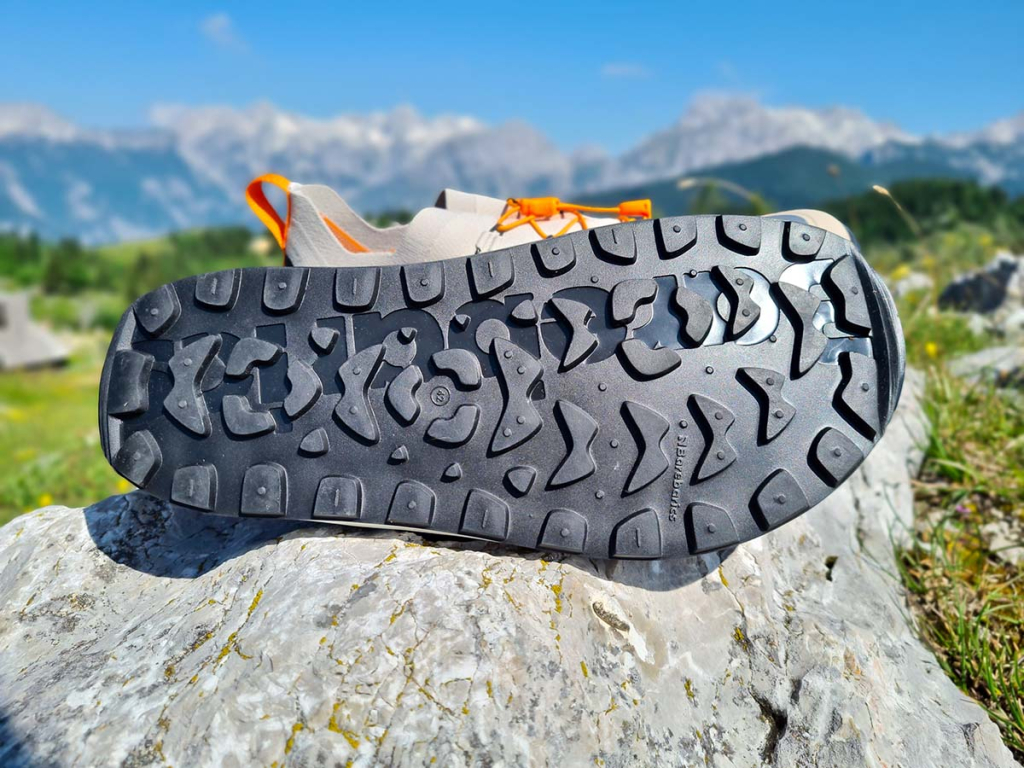 With an increased overall sole thickness, including the insole, the Barebarics Voyager shoes provide additional protection, cushioning, and reduced stimulation from rocky surfaces. This makes them particularly enjoyable for beginners during hiking activities. However, for more experienced barefoot enthusiasts seeking a more intense ground feel, the Be Lenka Trailwalker model is a suitable alternative worth considering.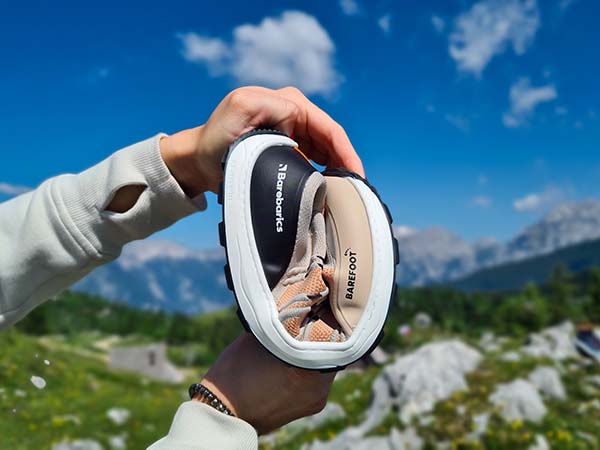 3. Sizing information
3.1 Length
The Barebarics Voyager sneakers are designed to be unisex and are available in sizes ranging from 36 to 47. However, it's important to note that not all colors are available in the smallest and largest sizes.
To ensure a perfect fit, we recommend measuring your feet and referring to their size chart before placing an order. For instance, my foot length measures 26.3 cm, and I choose a size 42, which is 11 mm longer than my foot. However, having even more extra space would also be acceptable.
It's worth mentioning that the Barebarics Voyager shoes may feel shallow above the toes. To accommodate this, we recommend opting for slightly more space than usual, potentially up to 18 mm. This is particularly important if you plan to wear them with thicker socks or if you anticipate walking downhill. Individuals with wider or higher-volume feet may find the pressure from the upper to be a bit uncomfortable, so having extra space can help alleviate any potential discomfort.
3.2. Toebox shape & width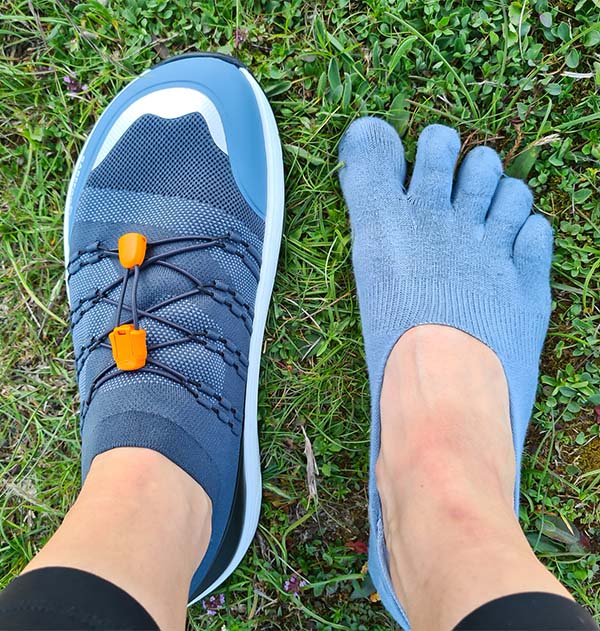 The toe box shape of the Barebarics Voyager shoes is most suitable for feet with the longest big toe or first two toes of equal length. However, individuals with square-shaped toes may find them less accommodating.
The shoes have a less pronounced bean shape, which may result in the big toe coming into contact with the side of the shoe for those with a more prominent bean shape of their feet. In such cases, sizing up with a few extra millimeters of space in front of the toes can help prevent any discomfort from the tapering at the end of the shoe.
While the Barebarics Voyager shoes are made on the same lasts as other models, they do feel narrower in comparison. The combination of a thicker insole and the construction of the upper creates a slightly less spacious feel, particularly with reduced space above the toes. As a result, these shoes are best suited for individuals with medium-width feet and at most medium-wide feet if they have a low volume.
To gain a few extra millimeters of space, you have the option of sizing up or removing/replacing the insoles, which can provide a more comfortable fit for those who require additional room.
For more information on foot types, we invite you to check out our blog post, What is my Foot Type?
3.3. Fit around the instep, heel and ankle
The Barebarics Voyager shoes are designed as slip-on footwear, enhanced with elastic laces for improved adjustment around the instep. They are well-suited for individuals with low and medium-height insteps. However, they may not be suitable for those with high-volume feet. If you require more volume, consider sizing up or removing/replacing the insole for a better fit.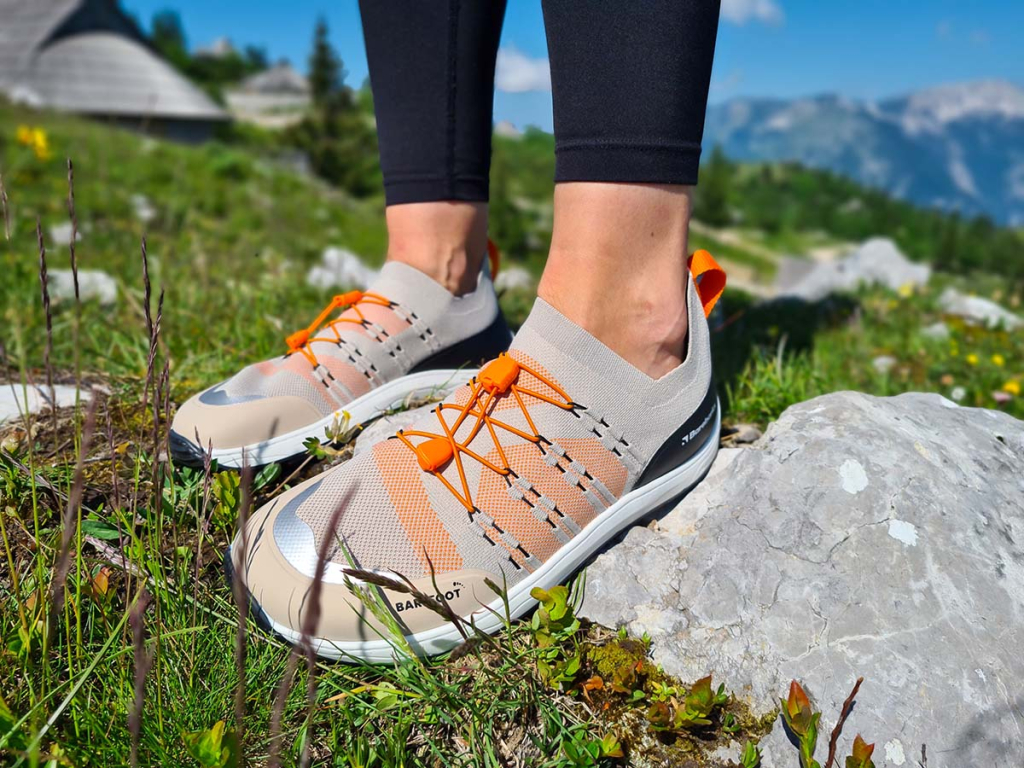 For individuals with narrow heels and ankles, adjusting the Voyager shoes may pose a challenge, as there may be a sensation of heel slipping and slight forward foot movement while walking. However, if your heels and ankles are of average or wider width, you should experience a good fit in this area.
4. Comfort
The Barebarics Voyager shoes offer effortless slip-on functionality, facilitated by a large pull loop and elastic laces.
However, it's important to note that the heel cup, where the protective rubber is applied, may initially feel firmer. Additionally, the material used in this area might feel slightly rough against bare skin in the beginning. To mitigate these issues, we recommend wearing the shoes with higher socks rather than going barefoot or opting for no-show socks. This will provide a layer of protection and enhance overall comfort during the initial wear.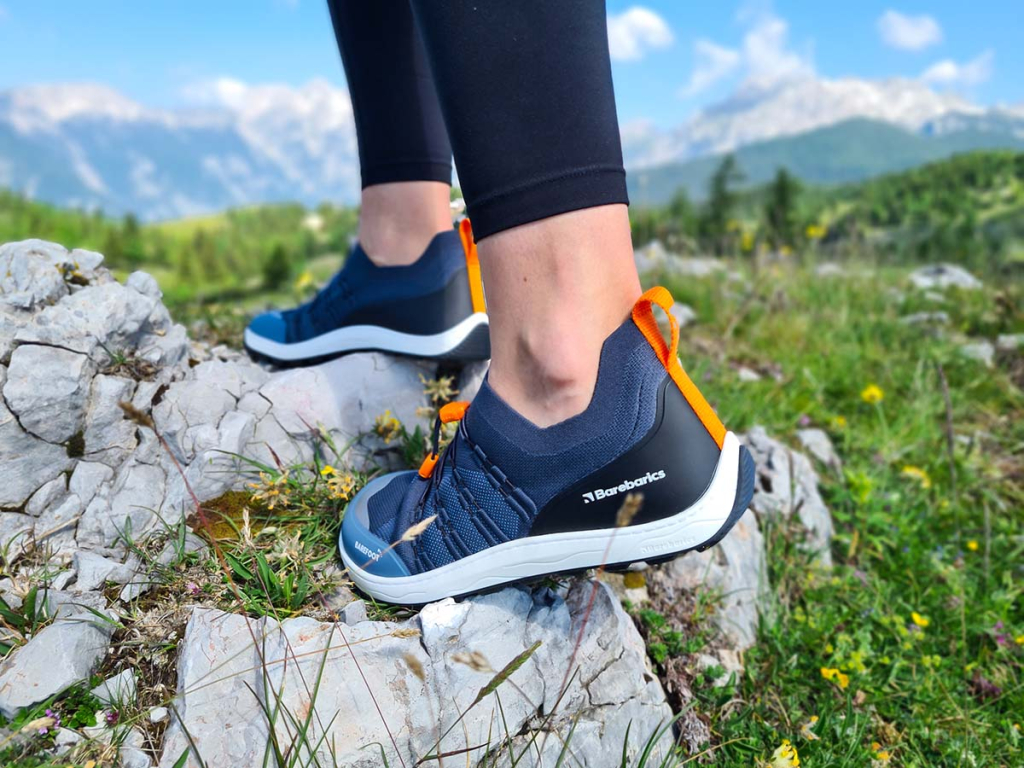 5. How and when to wear them?
Whether you're hitting the trails, exploring the great outdoors, or simply strolling around town, the Barebarics Voyager shoes are the perfect companion. With their modern city design, these shoes effortlessly blend with any outfit, allowing you to maintain a stylish appearance while staying connected to the ground beneath your feet.
We personally love wearing them while exploring nature, as they provide the perfect balance of comfort, versatility, and style.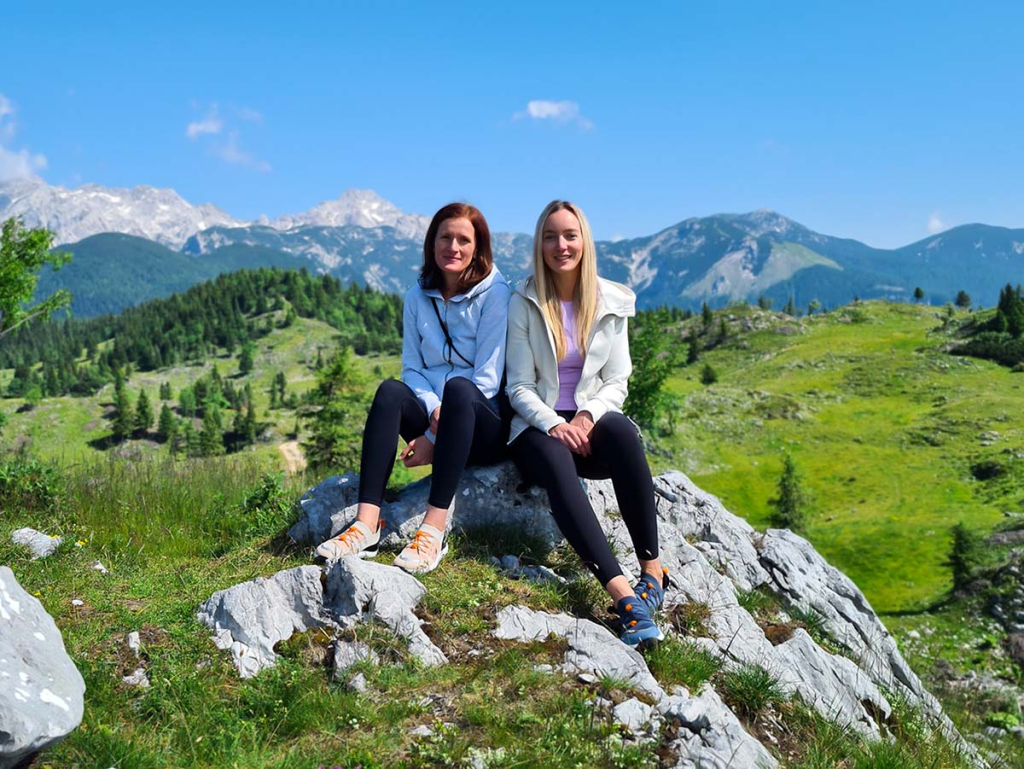 6. Price & where to buy
You can purchase Barebarics Voyager on official Be Lenka website, as well as at various local barefoot footwear retailers around the world.
Additionally, by using the code BOSENOGICE, you can get a 5% discount on all Be Lenka/Barebarics shoes (non-affiliate).
7. Shipping info
Be Lenka/Barebarics offers international shipping to customers worldwide. Shipping costs vary based on the destination country. For customers in select EU countries, Be Lenka offers free returns, making it easy to find the perfect fit without any additional costs.
8. To sum up
All in all, we enjoyed testing out the Barebarics Voyager in our beautiful mountains. These shoes are able to effortlessly withstand the rigors of outdoor adventuring while maintaining a stylish appearance. Whether you're engaging in light hiking, trekking, or seeking comfortable casual footwear, the Barebarics Voyager is a worthy investment if they fit your foot well. With their durability, versatility, and appealing aesthetics, these shoes offer a reliable and fashionable option for your outdoor pursuits.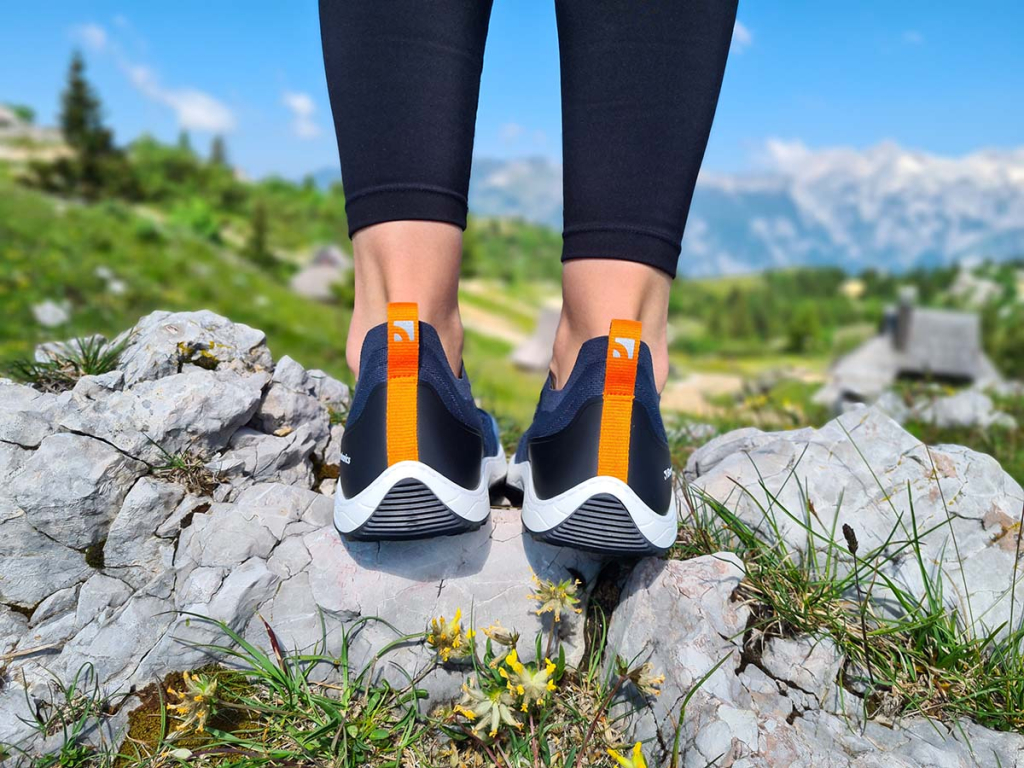 Use BOSENOGICE for 5% discount
---