They say that the best things in life are those you don't even notice that you have, and this is particularly true when it comes to your shoes. The softness and flexibility that Wildling Shoes have to offer is just unmatchable. You'll wonder how you ever managed to live without those shoes in your life so far!
Wildling Shoes are definitely something special and stand out even among barefoot footwear brands. It's definitely a pleasure when you try them on, and it's even better when you realize that you just don't want to take them off anymore.
What Makes Wildlings So Special?
It's not just their softness, design and sole that go unnoticed, but their ethics and concern for the environment, too. Of course, once tried on, they hardly leave anyone indifferent. These are the things that Wildling Shoes are famous for, just like any masterpiece – no exaggeration.
Willding Shoes have another special feature.
Did you know that the names for Wildling shoes are not chosen randomly? They all have a special meaning, which connects them to the plant, animal or region whose name they have.
For example, Tanuki model is named after Tanuki or Japanese raccoon dog. The name beautifully links the washi material (Japanese rice paper) from which the shoe is made with Japan, where the material is made using traditional techniques.
Wildling Shoes launches their new collection twice a year – in February and September. Most of the new collection is launched at this time and always includes new materials, new patterns and some popular basic designs in new colours.
Certainly, Wildling Shoes can also surprise, so they often impress with a special design at a time when you don't expect it at all. Of course, in addition to the new models, there are also 'Basic' models available all year round.
If you want to know more about Wildling Shoes, their collections, sizing and fit, you'll find everything right here!
Disclaimer: Please note that Barefoot Universe is reader supported. We may receive commissions on products purchased through affiliate links or affiliate codes in our content. This in no way affects our reviews or comparisons, which are based on objective analysis and our honest opinion. We appreciate your support! Learn more here.
FREE SHIPPING with code WN_barefootuniverse (INTERNATIONAL) and WN_barefootuniverseUS (US)
1. Meet Wildling Shoes
Wildling Shoes has experienced an extremely fast and rapid development in the barefoot world, becoming one of the most popular brands of barefoot shoes available today.
The brand was founded in 2015 by Anna and Ran Yona, who lived in Tel Aviv with their family for many years. There, their three children were able to run around barefoot without any worries, which was no longer possible when they returned to Germany because the winters in Europe did not allow it.
They also wanted to give their children in Germany as much natural and unrestricted movement as possible, which the shoes available on the market at the time did not allow. Thus, the Wildling Shoes brand was born.
The company has quickly made a name for itself outside Germany for its shoes and the value they place on our planet and fellow human beings, winning numerous awards such as the German Sustainability Award and the German Design Award.
Their first collections sold out in no time and supply did not keep up with demand. When I tried them for the first time, I was instantly smitten with them too, so I can very much understand the customer satisfaction.
The brand originates from Germany and their shoes are manufactured in Portugal. Wildling Shoes also visits its manufacturing partners regularly to take care of its employees and has a team in Portugal responsible for the quality of the production process.
2. The Materials Used
Wildling Shoes takes great care in choosing the materials used to make its shoes. Most of the materials are from certified organic production or certified organic livestock farming and from verified local sources.
Their shoes are made from cotton, hemp, linen, cork, boiled wool and even paper. They do not use leather to make their shoes (except in very rare cases as a small accessory), and they use natural dyes and glues.
When new collections are launched, they often surprise us with a new material and a new story.
The company also aims to reduce waste in the textile and shoe industries and shorten supply routes, so shoe production is carefully planned. Most of the processed fabrics are made in Germany and Europe, and leftover materials are often used in the production of new models, which are available as part of a limited series.
More detailed information on the materials used for each model is always given in the descriptions of the individual shoe models and in the blog post that is published when a new collection/model is released.
3. Types Of Soles
The sole of the Wildling shoe looks quite interesting at first sight, perhaps even strange at times, and certainly quite different from the sole of a normal shoe and also from the sole of a barefoot shoe.
Inspired by traditional Japanese ninja shoes, the sole has a hole in the middle to achieve extreme flexibility. The opening in the middle is further protected by a durable material to prevent the sole from wearing out too quickly and to increase the water resistance of the shoe in the area of the opening, if necessary.
The overall thickness of the sole varies between sizes, being as little as 1,5 mm for the smallest sizes and 4,5 mm for the largest adult sizes. Most sizes have a sole thickness of 2,5 or 3,5 mm.
The sole is made of 60% synthetic rubber containing approximately 33% recycled material, 25% silica, 15% recycled cork. Despite the thinness of the sole, it is extremely durable and the shoes can be worn for several seasons without any problem.
Of course, the thinness and flexibility of the sole also makes the feel of the ground underfoot exceptional, as the thin sole gives you a very good feel of the ground you're walking on.
Wildling uses the same sole design for all its models, with two exceptions – Toddler models and the latest Lotus slippers, where the sole covers the entire bottom of the shoe and has no openings. This sole is extremely thin and offers only the most minimal protection on the sole that the foot needs in a shoe.
This super soft sole allows your child to feel the ground while developing their balance and coordination skills, as well as muscle strength in their feet, legs and core muscles! Exactly what a child needs when makes first steps.
4. Choosing The Right Size
We never choose a barefoot shoe according to our 'normal' shoe size, but always measure our feet and consider our foot type before ordering. Wildling Shoes are no exception to this.
We also take into account the space the foot needs to move and the room to grow, which must be taken into account when choosing children's shoes.
Note: Wildling Shoes wanted to make choosing the right size as easy as possible, so in 2022 they completely updated their size charts and printable templates to make them even more user-friendly.
4.1 Length
Wildling Shoes are available in sizes 18 to 48 and are divided into collections:
Toddler – sizes 18-22
Kids – sizes 23-35
Adults – sizes 36-48
NOTE: Kids' size 35 is the same inside length as adult size 36. The difference between the two is in the circumference (children's models have a smaller circumference) and may also be in the design and the laces used, as size 35 is part of the kids' collection and size 36 is part of the adult collection.
There are two ways to choose the right size of Wildling shoes:
using printable templates
using size charts
In addition to using the above two methods, we always check the descriptions under each model, as there may be minor discrepancies in certain models.
IMPORTANT! Wildling size charts and printable templates, unlike other brands, already take into account the space needed in front of the toes and room for growth, so please take this into account when choosing your size.
Using printable templates
The easiest way to choose the right size of Wildling shoes is by using the printable FitKit templates. Templates are available specifically for adult feet and for children's feet, which are still growing and need to allow room for growth when choosing the right size.
Make sure you choose the right template and print it at the right scale before you use it. Fold the sheet along the line and place it against the wall. Step on the template with your foot and read off the size you need. Repeat for the other foot. If your feet are of different lengths, take the size for the longer foot.
The correct size is indicated by the first line marked with the size in front of our longest toe.
Example: for my foot length of 26.3 cm, size EU 42 (W10 | M9) is appropriate. This is the size I choose for most models, except in special cases when I choose the bigger size 43 (see explanation below).
Using size charts
As well as printable templates, size charts are available specifically for the growing foot and the adult foot. Caution! The size charts already give the recommended foot lengths and not the internal shoe lengths, as is usual with most brands.
Example: my foot is 26.3 cm long. According to the size chart, I am a size EU 42 (W10 | M9), which Wildling recommends for feet up to 26.6 cm (10.5 inch) in length. I have approx. 13 mm of toe space in Wildling shoes in size 42.
If you are choosing shoes for children, use the size chart for the growing foot, which adds room for growth (approx. 8 mm) to the room for movement.
Always check the fit in the shoe when you try it. The seam above the toes can be a rough measure of adequate space in front of the toe. If an adult's toes extend up to this point, there is usually enough room in front of the toes in the shoe.
Exceptions when we choose a bigger size:
In certain Wildling models, it is recommended to choose a bigger size than recommended in their size charts or printable templates. These exceptions apply to:
winter models, which we intend to wear with wool insoles and thicker socks. Insoles and wool socks take away both the available length and width in the shoe, so it is advisable to choose a bigger size for these models (I wear a size EU 43). Winter models also run narrower than summer models due to the thicker lining.
Feather sandals: again, it is advisable to choose a bigger size (unless you have a narrower foot), as the foot may slip forward a little when walking
You can also choose a bigger shoe size if your foot is slightly wider than the width of a wide shoe and you would like to gain some extra width with a bigger size.
4.2 Width & toe box shape
Wildling shoes have a squarer toe box shape, with a milder slope towards the pinky toe, which is quite universal and suitable for different foot types. It is best suited to foot types 2, 4 and 5, but foot type 1 may have more extra room in front of the smaller toes due to the slope towards the pinky toe.
If the foot has a more pronounced V-shape than e.g. foot 3, the Wildling models will not be the most suitable.
The shoes are best suited for medium wide feet (max. medium to wide), but can also fit slightly wider feet by choosing a bigger size.
Caution! Even if the greater volume of the upper or the stretch of the material allows wider feet to wear the shoes, it is extremely important that all toes remain in contact with the sole when walking. The toes in their natural, splayed position must not hang over the sole!
Example: my foot dimensions are 26.3/10 cm and Wildling Shoes fit me well width-wise (but I'm borderline width-wise with the available sole width!), but there is still room for more volume/foot volume in certain models.
The final available width of Wildling shoes always varies slightly from model to model and depends mainly on the material used. Winter models are usually slightly narrower than spring/summer models as the thicker lining takes away more width and volume in the shoe, especially if the shoes are worn with an insole. For more details on the width for each model, see the model descriptions below.
Some models may have too much volume for narrow feet. In this case, an additional insole can be used in the shoe for a better fit.
Find out more about How To Trasform Your Foot Health With Barefoot Shoes in our FREE webinar.

4.3 Fit around the instep, heel and ankle
Most Wildling models offer a good fit for different ankle widths and foot volumes, as the laces can be used to achieve a good fit for different foot volumes. The exceptions are slip-on models where good fixation is more difficult to achieve for all foot volumes.
In some low-cut models, feet with narrower ankles may notice a poorer fit around the ankles, but the shoes usually still fit the foot well if the fixation across the instep is sufficient, as the shoe's extreme lightness and flexibility have a positive effect on improving the fit also in the ankle area.
5. Wildling Shoes Spring/Summer Collection 2023
Kune Natural
| Adults, kids, toddlers | canvas | EU18-EU48 | 69€, 89€, 139€ | $69, $89, $159 |
Wildling has introduced hemp into several of their new models this year, including the Kune Natural, which boasts a gorgeous neutral design. Crafted from a cotton-hemp blend and featuring an undyed lining, these shoes have a lovely, minimalist aesthetic. The embroidered eyelets and heel loop, which are integrated into the shoe's upper, add to their sleek appearance – and that's exactly how they feel when worn!
What's more, the Kune Natural is available also in smaller sizes for toddlers, making it a great option for little ones on warm days. The thin, breathable material keeps your feet cool and comfy.
Sizing & fit: Kune work best for those with medium-width feet and average ankles. If you have narrow feet or skinny ankles, you might find the fit a bit loose around the ankle area. For reference, I'm wearing size 42 (foot dimensions 26.3/10 cm).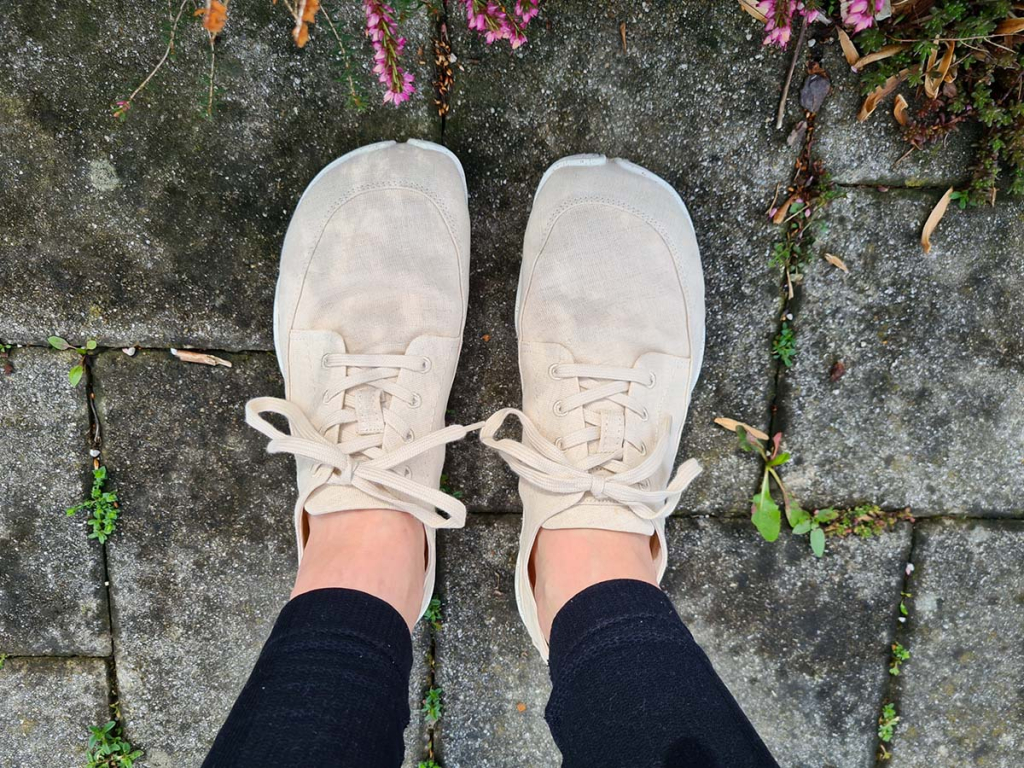 ---
Lanka Medium Clay
| Adults, kids | cotton-linen | EU23-EU48 | 79€, 129€ | $79, $149 |
Lanka is a Wildling model that caught our eye with its unique and special color, somewhere between old rose, orange and red, which they call "medium clay".
It is made of a combination of cotton and linen and has just a slightly thicker material than the Kune model, but still feels airy and perfect for warmer days. The fit is similar to Kune, making it comfortable for medium width feet and average ankles. This model is also available in another lovely color.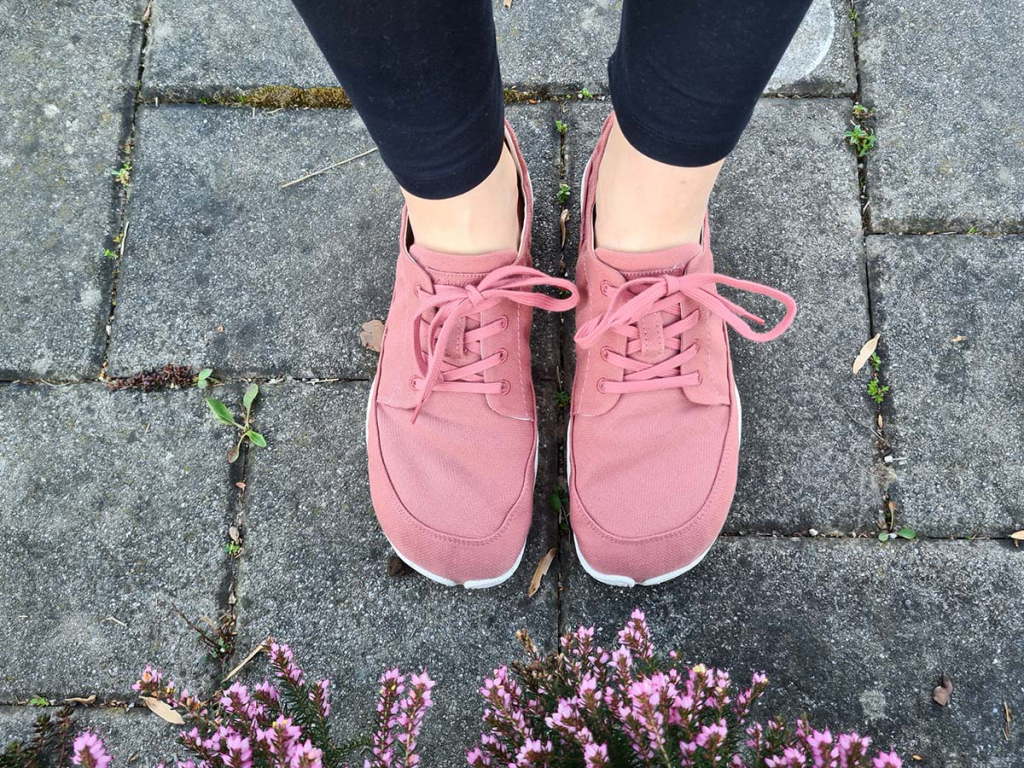 ---
Tanuki Mori Refoxed
| Adults, kids | washi | EU23-EU48 | 89€, 119€ | $99, $139 |
We have to say, the Tanuki is one of our all-time favorite Wildling models – we just can't get enough of them! While they offer basic colors every year, they also introduce a few new shades each time. This year, they've added three stunning options, and one that's caught our eye is this gorgeous petrol green with a touch of purple lining.
Both kids and adults will love this vibrant option, and believe us, it feels incredible on bare feet. If you'd like to learn more about the Tanuki, check out our separate review. You won't be disappointed!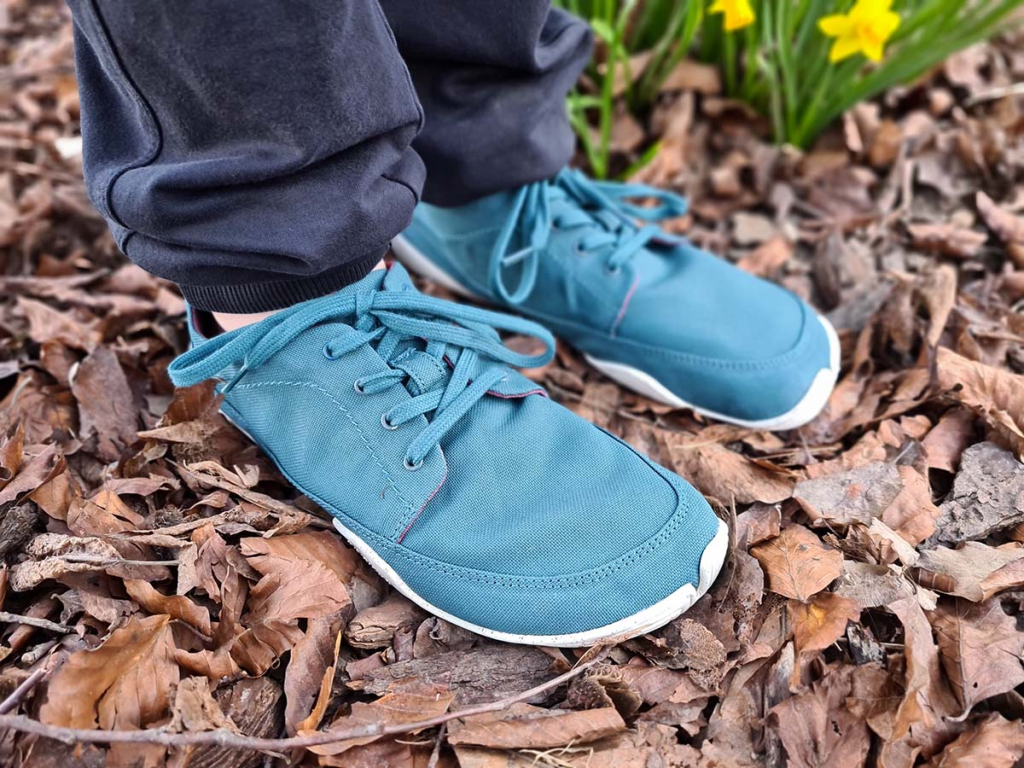 ---
Feather Blue
| Adults, kids, toddlers | microfiber | EU18-EU48 | 59€, 69€, 89€ | $59, $69, $99 |
We have been in love with Feathers ever since they were first released! They have become a staple in our kids' shoe collection every year. While they are also available in basic colors, we always look forward to the new colors they release each year, and this year they are available in blue and coral.
Feathers are a breeze to put on and wash (just toss them in the washing machine), and they can be easily handed down to younger siblings. They are perfect for adults too, especially if you prefer not to wear sandals with anything between your toes. Imagine them as shoes with maximum ventilation.
Just be sure to pick the right size. For more insights, don't hesitate to read our dedicated Feathers review here.
---
6. Wildling Shoes Basic collection
North Wolf
| Adults, kids, toddlers | virgin wool | EU23-EU48 | 89€-139€ | $59-$149 |
The North Wolf is a basic model that is a top choice for the coldest winter days. The entire upper part of the shoe is made of wool, except for the edging, which is microfibre. The boots also have a built-in waterproof membrane and can be waterproofed for extra protection (but only the microfibre part!).
For winter use, be sure to combine them with a wool insoles, which can be purchased separately. The model is also extremely easy to clean, just brush off the dirt with a brush.
The North Wolf model is also available for first walkers and is one of the softest winter first walker models on the market.
They are best suited for narrow and medium width feet. I recommend choosing a size bigger than recommended by Wildling FitKit (I wear a size EU 43, foot dimensions 26.3/10 cm), unless your foot is narrow, with little volume.
---
Flying Fox
| Adults, kids | organic cotton | EU23-EU48 | 89€-99€ | $89-$119 |
The Flying Fox is a great all-year-round ankle boot in neutral black, best suited for spring and autumn. Combined with a wool insole and warmer socks, it can be worn on colder days, but is not suitable for cold winter days.
The model is made of cotton with a slightly silky finish. The interior is not additionally lined. The shoes have a built-in membrane, but it is recommended to waterproof the shoes for additional protection against moisture.
The model is best suited for medium width feet, but also fits narrow feet. I wear my regular size EU 42 (foot length 26.3 cm) with this model.
---
Nebula
| Adults, kids | knitten Merino mix | EU23-EU48 | 89€, 119€ | $89, $129 |
The Nebula is an extremely special Willding model, made of only three pieces. The soft and stretchy upper makes the model feel like a sock, and it gives us just that feeling in the shoe.
Both the children's and adult models have cotton laces and the model is not best suited for use with elasticated laces, as the laces are more difficult to slip through the holes or to adjust. I also do not feel the need for elasticated laces, as the laces do not need to be untied before putting on the shoe, as the model's stretch allows the shoe to be put on without untying.
The model is suitable for narrow and medium width feet, unless you choose to go up a size like I did. This is a rare summer Wildling model where I wear a size EU 43 instead of a EU 42. I chose the bigger size precisely for the extra width, as in my normal size EU 42, not all my toes were in contact with the sole (the toes should not hang over the sole!). However, as the model is also slightly shorter, the larger size does not feel too long.
However, please note that it is not advisable to choose too much extra toe space in this model, as too much toe space can be distracting for walking and the elasticity of the material makes the foot move from side to side as you walk.
---
Tanuki Niji, Umi, Yoru
| Adults, kids | stretch washi | EU23-EU48 | 89€, 99€ | $99, $119 |
Tanuki is one of my favourite barefoot models of all time. These paper shoes are one of the lightest and most breathable shoes on the market. They are extremely comfortable on bare feet and are a top choice for the warmer days of the year.
The Tanuki model is available in black, navy blue and creamy white as part of the permanent collection, and each year a new colour is added as part of the new spring/summer collection.
The shoes are best suited for medium-width feet, but you can also gain some extra width by choosing a bigger size. They also fit narrower feet with less volume. If the shoes still have too much volume for your foot, you can use an additional insole in the shoe.
I'm wearing a size EU 42 in this model, which is also recommended by FitKit for my 26.3 cm foot length.
It is not officially recommended to wash shoes in a washing machine, but in our experience, shoes can be cleaned easily this way.
You can read more about Tanuki models in the detailed review here.
---
Feather
| Adults, kids, toddlers | microfiber | EU18-EU48 | 79€ | $89 |
Feather sandals look rather unusual at first glance. Maybe they remind you of shoes with many holes. Well, in a way, they are.
Wildling Shoes has combined all the features of closed shoes and sandals in this model, achieving the high breathability and openness of a sandal and the good fixation of a closed shoe.
Feather sandals have been our top choice of sandals for children since they were first launched. They are extremely popular with kids and are also suitable for those of you who don't like sandals with a strap between the toes, but are looking for a good fixation of the sandal on the foot.
The Feather Magpie in black is available as part of the Wildling permanent collection and is joined by two more colours each year, available in all sizes (including toddlers).
The model has undergone minor updates in the years since it was first launched, making it even better. The updates have solved the problem of children's toes 'leaking' out of the sandals, and the adjustable Velcro strap now adapts well to different foot volumes, making the sandals suitable for very low (the extra length of strap can be cut off if necessary) as well as high instep.
Sandals are best suited for medium and medium-wide feet, but can also fit slightly wider feet by choosing a bigger size.
For sandals, I recommend choosing a size bigger than recommended by FitKit, as the foot may slip forward a little when walking.
You can read more about the Feather sandals in the detailed review here.
7. Wildling Shoes Autumn/Winter Collection 2022/23
Lotus
| Adults, kids | wool felt | EU23-EU48 | 59€, 89€ | $59, $99 |
The Wildling Lotus is a brand new pair of felted wool slippers. They are made of only three materials: wool, thread and sole, as they wanted to make recycling as easy as possible at the end of use.
In addition to the new design, the model features a new sole that is extremely thin and flexible.
The model fits narrow and medium width feet best. The bigger size can also give you some extra width, as the material at the front of the shoe can stretch slightly to the sides, but take in mind that this also takes away some of the length.
The model I'm wearing in the photos is my classic size EU 42, which is recommended by FitKit for my foot length (26.3 cm), but I'm already at the upper limit of the available width at the tip of the toes with this model.
Lotus doesn't allow you to adjust the fit around the instep and ankles, so make sure they fit your foot really well and that your heel doesn't slide forward (they're best suited to low and medium insteps – but you can also get more volume with a bigger size.
Please note that wool may take on a slightly 'fuzzy' appearance more quickly with use. Which I don't mind btw.
---
Robinia
| Adults, kids | organic cotton | EU23-EU48 | 109€, 139€ | $119, $149 |
Robinia are made of light grey cotton and lined with hemp and linen fleece. Suitable for autumn and milder winter days. For more warmth in the shoe, I recommend using wool insoles, which can be purchased separately.
The model has a built-in membrane and when tested, even without additional impregnation, the model withstood intensive cleaning of the shoe under water (remaining completely dry inside).
For this model, I recommend choosing one size bigger than FitKit recommends, especially if you plan to wear the shoes with a wool insole. I am wearing a size 43 (foot length 26,3 cm) in this model.
The model is best suited for medium width feet (based on the available width at the tip of the toes), but has more volume available in the midfoot and also at the ball of the foot.
---
Yew
| Adults, kids | canvas | EU23-EU48 | 109€, 139€ | $119, $149 |
The Yew is a model that has a slightly different design to what we are used to with Wildling Shoes. This model was chosen for testing by my son and is also available for adults, where the elastic laces have been replaced by cotton ones.
It is made of cotton canvas in olive green with contrasting mustard-coloured laces. The interior is lined with felted wool. The model has a built-in membrane and a gussetted tongue to make the model even more water-repellent.
The model is also distinguished by the special rings eyelets. This makes it even quicker and easier to put on the shoes.
The model is suitable for narrow and medium width feet. If you will be using wool insoles in the shoe, choose one size bigger than recommended by Wildling FitKit.
---
Pine
| Adults, kids, toddlers | cotton & linen | EU18-EU48 | 69€-109€ | $69-$119 |
Pine is a beautiful navy blue colour bootie. It is made of cotton and lined with hemp and linen fleece. This model is also available for first walkers.
The model is suitable for autumn, spring and milder winter days with wool insoles.
Pine is best suited for medium wide feet. If using wool insoles, choose one size bigger than the FitKit recommendation.
---
Zora
| Adults, kids | recycled cotton | EU18-EU48 | 79€-119€ | $79-$129 |
The Zora model, in a beautiful burgundy red colour, is made of cotton and lined with hemp and linen fleece. This model is also available for first walkers.
The design symbolises the partnership between Wildling Shoes and Rewildling Europe. The design is printed on the outside of the shoe in the children's models, while in the adult sizes it is printed on the lining inside the shoe.
This model is best suited for autumn and spring and milder winter days when using wool inserts. Suitable for medium width feet.
---
Chokeberry
| Adults, kids | wool | EU18-EU48 | 79€-129€ | $79-$139 |
Chokeberry is one of the models that is entirely made of felted wool in grey-blue-green. This model is suitable for wearing on winter days and is one of the warmest Willding models that can be worn even in sub-zero temperatures.
It is definitely advisable to buy a wool insole for this model and to choose a shoe one size bigger than recommended by FitKit, as the insole takes up some space in the shoe.
It is suitable for medium width feet, but has a little more volume than the other Wildling models, so it may feel too voluminous for narrower feet with less volume. My son, who has a medium wide foot with very little volume, is wearing them with a wool insole and socks in the photo.
8. Comfort
Wildling shoes are the softest thing you can offer your feet. There is no Wildling model that feels stiff, uncomfortable or that will cause blisters at any time, as the shoes feel more like a soft sock on your foot than an actual shoe.
If you don't wear toe socks, take more care when wearing higher models, as the socks can quickly get pulled back too far in the shoe. If that happens, your toes can't move properly in the shoe.
To avoid this problem, use the appropriate socks.
Kids love wearing them too! Just take in mind that the higher models in the range require more skills to put on, but once they get the hang of it, they're easy enough for most kids to put on themselves.
9. Wildling shoes In Winter And Rain
Wildling Shoes work well in winter too, but only if you choose the right model. The warmest Wildling models are the ones that have a full wool upper and are a little higher. The wool provides excellent insulation and the higher models also keep our calves warm.
Wildling shoes will keep your feet warm:
with the right model – wool models provide the most warmth
using wool insoles and warmer wool socks
choosing the right size – for winter models, choose a shoe one size bigger than you would normally wear with other Wildling shoes. This way, there is enough room for thicker socks and wool insoles, while the right amount of space allows for proper foot movement and air circulation in the shoe.
keep moving – only during movement do the muscles work and the blood circulates properly, keeping the feet warm
Most Wildling Shoes winter models are most comfortable to wear at temperatures around 0°C (32°F), but the actual feeling of warmth in the shoe can vary from person to person and from model to model. For me, wool models are comfortable for extended wear in temperatures down to -5°C (23°F), but would not be the primary choice for very low temperatures.
Wool models also work well in snow, but please note that they may get a little wet at the heel after prolonged use in wet snow if they are not pre-treated. They kept my feet dry for approx. 1 hour without impregnation.
Wildling shoes are made of textiles, so it is impossible to expect them to be completely waterproof, but certain models have a built-in waterproof membrane which, combined with a waterproof spray, provides good protection in the rain.
It is also recommended to waterproof models to be used in the rain. Please note that certain impregnation sprays can change the colour of certain materials. Care should also be taken with wool models, where only the microfibre edging can be impregnated.
10. Taking Care Of Wildling Shoes
Care
Wildling Shoes offers a wide range of care products on their website to help you clean your shoes and prolong their life.
The best way to clean the dirt from Wildling shoes is to wait for the mud to dry, then gently brush the dirt off. The rest of the dirt often cleans up very nicely with a damp cloth. If additional cleaning is needed, you can also use their 'Tapir' cleaning products.
Some models are also machine washable. We regularly wash the Feather and Tanuki models, although Wildling Shoes advises against machine washing.
Please note that certain light colours are nevertheless more difficult to clean, so heavier dirt may not be completely removed. Some people therefore choose to color their Wildling shoes (if the material allows it, of course).
Durability of shoes
The durability of a design depends mainly on the colour and material of the shoe.
The thin sole is extremely durable in our experience and our models show no visible signs of wear even after 3 years of constant use.
However, with some models, the edge of the sole may become slightly detached with use. In this case, the solution is very quick and easy, with only a minimal application of glue to repair the shoe and make it like new. Do not take this as a mistake, as the shoes are glued with environmentally friendly adhesives.
The durability and, above all, the appearance of the upper part of the shoe depends mainly on the material used. Models made entirely of wool (such as North Wolf) work well, as they are very easy to clean and the shoes look like new despite being used in mud and water.
Certain colours may fade more quickly due to the use of natural dyes, and this is usually stated on their website.
Coming soon: Wildling Shoes Repair Center.
11. Wildling Accessories
In addition to shoes, Wildling also offers many useful accessories on its website, such as insoles, laces, waterproofing products, socks, etc.
I would definitely recommend investing in at least some extra insoles, as these are some of the best quality insoles for barefoot shoes on the market and they always come in handy.
12. Purchase & Shipping
Willding shoes can only be bought in their online shop. They also occasionally have small 'pop-up' shops in different cities in Europe, and you can find information about them on their social media channels and on their website.
Wildling Shoes ships worldwide, postage is 8.90€ for orders up to 200€ and free for orders over 200€. You can find out more about shipping here.
Wildling Shoes has a special website for the USA and Canada, where postage is also free on orders over $200. First return is free.
13. Conclusion
If you believe in the power of barefoot shoes to affect your health and happiness, then you've come to the right place. Wildling's shoes have been crafted to delight your feet and change your life.
---