If you're looking for a guide to buying your first pair of Xero Shoes, or just want to see just how much fun and versatile barefoot shoes can be, then you've found the right guide. We cover all their popular models for men, women and kids, and give you every piece of information you need to decide if this is the right barefoot brand for you!
Xero Shoes is a well-known US barefoot shoe brand, established in 2009 by Steven Sashen and Lena Phoenix. In this review, we'll go through their line of barefoot shoes and review them for the average user, covering everything from the materials to sizing & fit. We'll also share our personal experience, including some great photo comparisons so you can see what their shoes look like in real life.
So, if you're thinking of buying a pair and want to know more about Xero Shoes, read on!
Five Reasons To Love Xero Shoes
If you've never heard of Xero Shoes before, then you might be wondering what makes them so special. Here are five reasons why you should consider adding Xero Shoes to your shoe collection:
1. They're perfect for all seasons and ocassions
Xero shoes can be worn in nearly any situation. Whether you're going on a hike or just running errands around town, you'll find a style that works for you.
They come in many different styles of shoes, ranging from sandals to boots and even ballet flats. Each style comes in a variety of colors and patterns that look great when paired with any outfit you have in mind!
Xero Shoes also come in many different sole types so that you can choose the perfect pair for your needs. Whether it's hiking over rocky terrain or walking through urban streets, there are different options available so that your feet will always feel comfortable and secure no matter where they go!
2. T

hey're good for your feet
Xero Shoes are made with your comfort and feet in mind. They promote natural foot function and allow your toes to splay properly during walking.
Since there is no added support or cushioning in these shoes, they allow you to feel where your feet are landing and adjust accordingly if needed. This leads to better gait mechanics, proper posture and balance.
But most important: Xero Shoes help you to walk the way nature intended you to walk. They allow your feet to become healthy and strong again.
If you're interested in learning more about how to make your feet and body more functional with the help of properly fitting barefoot shoes, check out our FREE WEBINAR Transfrom your foot health with barefoot shoes.

3. They come in two different widths
Most barefoot shoe companies don't make shoes in different widths, but as not everyone has the same foot width, it's important to wear the correct width if you want to get all the benefits from barefoot shoes.
Xero Shoes, however, come in two widths (Men's and Women's sizes). It's one of the features that makes them a great option for more people.
As most styles are available for both men and women, this can be a great option for all who find one model too narrow or if you just need extra volume in the midfoot. Note, however, that this option is not available for smallest women's sizes.
4. They're great value for money
Xero Shoes are reasonably priced and always have a special sale when new collection launches when you can buy them with a discount.
They also have 5,000 MILE SOLE WARRANTY so if you somehow manage to wear through the outsole on your Xero Shoes sooner, they will replace them for a nominal cost.
Xero Shoes are guaranteed against manufacturer defects for 24 months from the date of purchase.
5. They look great too!
Xero Shoes have so many different models and colour options available that you will definitely find something that suits your taste perfectly. They also look similar to regular shoes so nobody will notice that you are wearing barefoot shoes.
No way to get bored with them!
Sizing & Fit
Length
Xero Shoes come in men's (US6.5-US15, EU 39.5-48), women's (US5-US12, EU 35.5 – 42.5) and kids sizes (Kids 12-Youth 4, EU 30-36) .
Although all Xero models use the same size chart, it can sometimes be difficult to determine which size you need as not all models have the same internal length in the same size.
Generally, models made from thicker materials require sizing up half or full size. However, this is only a general rule. For more information about sizing for each specific model, we recommend you to read our sizing & fit recommendations under each product description.
IMPORTANT! Never order a barefoot shoes according to your 'normal' shoe size, but always measure your feet and consider their shape before ordering.
It's also important to consider the space your foot needs to move inside the shoe too. Choose shoes with enough space in front of your toes (about 12 mm or more, depending on the model). With children's shoes, it's also important to add room for growth.
Appropriate sandal size can be easy to determine when you use Xero Shoes printable templates for each model. Make sure that the scale is correct and that your toes are positioned inside the sole outline.
For more information on sandals, check out our guide here.
Width
Xero Shoes come in two different widths, men's and women's. Women's sizes are slightly narrower than mens', and are best suited for medium width feet. But if you have slightly wider feet, you can gain some extra millimetres in width by choosing a bigger size. A lot of their models have very generous space above the toes too.
Men's shoes are slightly wider and have more volume at the ball of the foot and midfoot than women's and fit best on medium-wide feet. If you fall into size window where both models are available, you can choose between men's and women's shoes (depending on your foot width). Men's and women's models are usually available in different colors.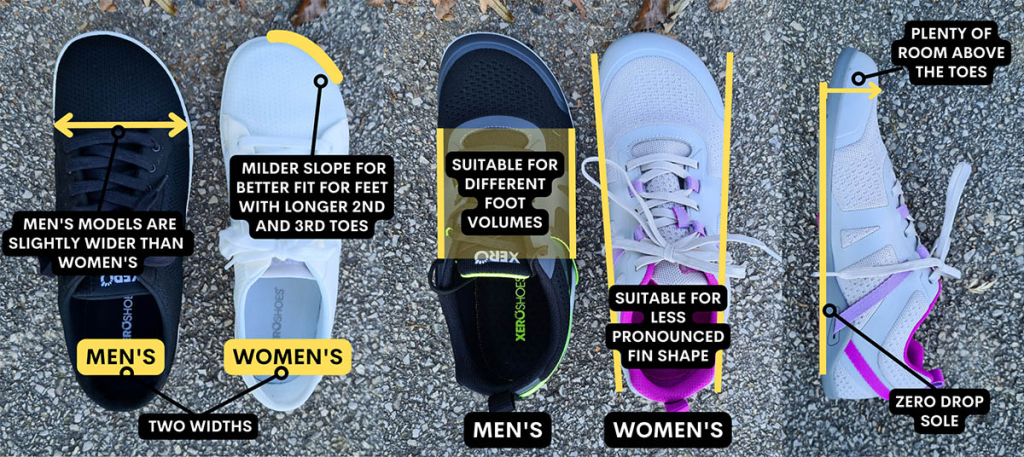 The toe box of Xero Shoes has a milder slope toward the pinky toe, creating more space for those with longer 2nd and 3rd toes. However, the overall shape of the shoe does not have a strong fin and bean shape. Xero Shoes are therefore best suited for people with less pronounced fin and bean shapes.
For more information about foot shapes, see our post here.
My foot is 26.3 cm long and 10 cm wide, so most women's Xero Shoes are not a perfect match for my feet if I stick with my usual size and 12 mm space in front of the toes. To get enough width for my toes, I usually size up half a size in my women's Xero Shoes which gives me enough space for all my toes to splay. Their toe box shape with a milder slope towards the pinky toe is a great match for me though!
New Xero Shoes Autumn/Winter Collection 2023/2024
Ridgeway
| Men's, Women's | leather | $139.99 | 180€ |
This hiking boot draws inspiration from a retro design, featuring a combination of canvas and suede upper in vibrant color combinations that we absolutely adore! They are waterproof, and the tongue is additionally gusseted for added water resistance. The sole is thicker and less flexible, making it perfect for those seeking more cushioning or for those who are new to barefoot shoes. However, for those seeking a true ground feel, these boots may feel too cushioned. The traction is decent but not as good as the Michelin sole provided in their Scrambler models.
The entire upper feels more padded, and they feel stiffer around the ankles in comparison to other barefoot hiking boots.
Sizing & fit: The Ridgeway boots are perfect for medium-width feet. If you have low volume feet, be prepared to spend more time adjusting them in the midfoot section as they may feel high volume there. We recommend sizing up half a size or even a whole size. For reference, I'm currently wearing a size EU 42 (US 11.5) with foot dimensions measuring 26.3/10 cm.
If you're looking for a retro-inspired hiking boot with vibrant colors, waterproof features, and a thicker sole for extra cushioning, the Ridgeway is a great choice. Just keep in mind the sizing recommendations and enjoy your hiking adventures!
---
Nexus Knit
| Men's, Women's | vegan | $109.99 | 110€ |
If you are looking for a shoe that feels like a cozy sock then Xero Shoes Nexus Knit is just what you need! These shoes are made from a breathable mesh upper, providing ultimate comfort. Once the laces are adjusted, they can be easily pulled on and off, functioning like slip-on shoes. The heel collar is padded on the inside (clever, right?) to prevent any discomfort or rubbing against your bare skin.
They have a trendy athletic design that would look perfect while hanging out with friends. They might be a tad sensitive to dirt, but toss 'em in the washing machine on a gentle cycle. Just remember to handle them delicately to preserve their vibrancy!
The sole of these shoes is one of the thinnest in the Xero collection, giving you that good barefoot experience. The insole provides just the right amount of cushion, not too much and not too little. Overall, they are great everyday sneakers.
Sizing & Fit: If you have average volume feet, these shoes are perfect for you! The laces can also be adjusted to accommodate low volume feet. However, due to the 3D shoe construction, the material may fold slightly. Still comfy, just not as sleek. These shoes cater to those with a medium-wide toe box, and if you're like me and appreciate a bit more width for your toes, sizing up might be the way to go. For reference, I wear a size EU 42 (US 11.5), with an internal length of 28 cm (foot length 26.3/10 cm).
---
Mesa Trail WP
| Men's, Women's | vegan | $139.99 | 160€ |
The Mesa Trail WP is the waterproof version of the Mesa Trail runner shoes. Due to the waterproof construction, they may feel less soft initially, and the material can have a slightly plastic-like sensation. It's worth noting that these shoes may not be the best choice for warmer weather, as they can quickly become uncomfortably hot and sweaty. However, if you're in need of a shoe that will keep your feet dry on wet and muddy trails, this is the perfect choice!
Sizing & fit: Mesa Trail WP tends to run a tad shorter compared to other Xero Shoes of the same size. Therefore, consider sizing up by half or even a full size when opting for this model. They are most suitable for those with medium-width feet.
---
Scrambler Low
| Men's, Women's | vegan | $149.99 | 160€ |
Scrambler Low is the low-cut sibling of the Scrambler hiking boots released last spring. It boasts the same impressive features, including the dependable Michelin outsole that provides excellent grip on diverse terrains. Whether you're into trail running or hiking, these shoes have got you covered. Plus, they come in a range of vibrant colors (but don't worry, the classic black option is available too).
Sizing & Fit: Scrambler Low is a great match for medium-width feet, but if you're in search of hiking shoes with an extra-wide toe box, these might not be the best choice. Personally, I opted to size up by half a size in this model. This not only provides more width but also accommodates any swelling that may occur during long hikes. I'm currently wearing a EU 42 (US 11.5), with an internal length of 27.7 cm (foot length of 26.3 cm and a width of 10 cm).
---
Pagosa
| Men's, Women's | vegan | $69.99 | 75€ |
Xero Shoes Pagosa are cozy house slippers crafted from thin faux wool. While this material provides a decent level of warmth, it may not be as toasty as genuine wool. However, it should suffice unless you're prone to feeling cold and often sit for extended periods while wearing them. These slippers are designed as slip-on shoes with a collapsible heel, which can be convenient for quickly slipping into them. Although this is a convenient way to wear them, we advise against wearing them like this all the time, as you wouldn't want to miss out on the benefits of barefoot shoes, right?
Sizing & Fit: Pagosa is ideal for individuals with a low to average instep height. If you have higher instep feet, you can either remove the insole or opt for a larger size, but please note that for very high-volume feet, these adjustments may not suffice. These slippers are best suited for medium-width feet. As a point of reference, I wear size EU 41.5 (US 11) with an internal length of 27.6 cm (foot length 26.3 cm).
Other Popular Xero Shoes Models
Dillon
| Men's, Women's | vegan | $99.99 | 110€ |
Dillon are new super stylish, vegan-friendly Xero barefoot sneakers available in classic black, white and black&white colours for men and women. Those minimalist sneakers are made from breathable knit upper and flexible sole that gives you minimal cushioning, but you can remove the insole for more intense ground feel or if you need more volume.
Sizing & Fit: Dillon feels wider than most Xero models. I am wearing size US W11.5, EU 42 with an internal length of 28.1 cm–my foot length is 26.3 cm but half a size smaller would also fit well.
If you have narrow heels and ankles, this model may feel looser around the heel than other Xero models.
---
Prio Suede
| Men's, Women's | leather | $109.99 | 120€ |
Xero Shoes has taken their popular Prio model to the next level, making it even more versatile and suitable for a variety of occasions. While the shoe retains its breathable mesh upper, it now incorporates a combination of suede leather and gum rubber sole for both men and women, available in different colors that effortlessly complement any outfit.
Sizing & Fit: Prio Suede tends to run short, feeling shorter than other Xero Shoes models in the same size. With my foot length measuring 26.3 cm, I opted for size W11, but I would have preferred a few extra millimeters. I definitely recommend sizing up when choosing this model.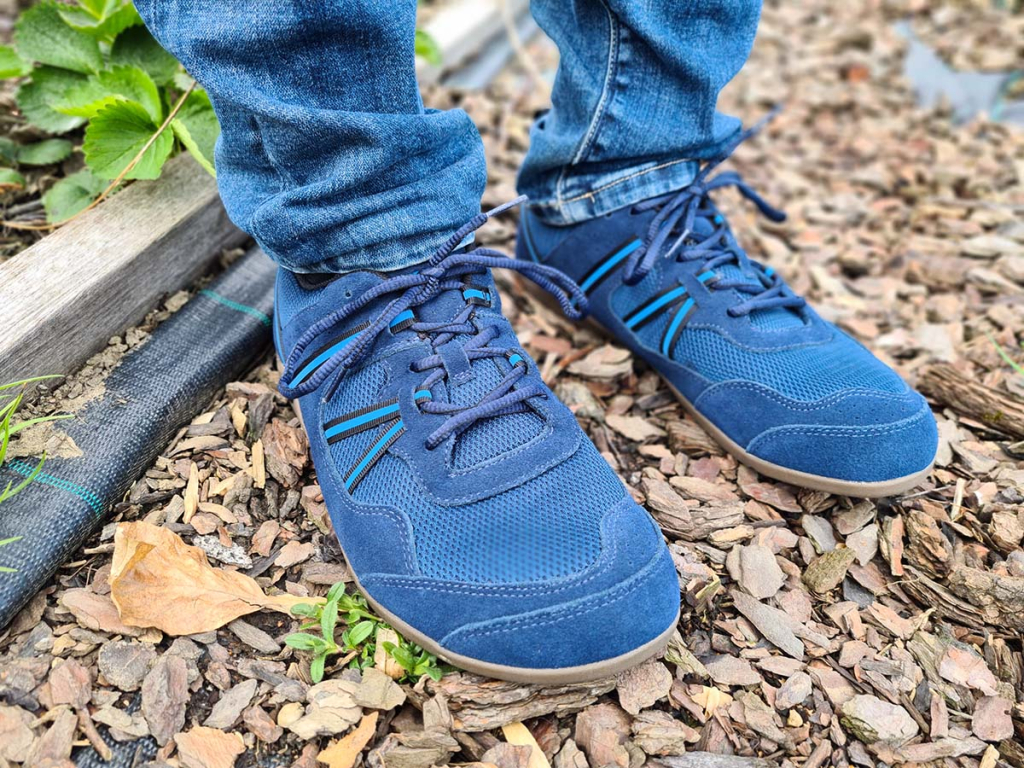 ---
Scrambler Mid
| Men's, Women's | vegan | $169.99 | 180€ |
New hiking boots called Scrambler Mid feature a Michelin sole with 3 mm deep lugs, ensuring good traction on more demanding terrains.
Boots are available for men and women in a wide range of appealing colours. Top-speed hooks make them easy to pull on and off, while padded collars ensure comfort. Their height does not limit ankle movement, but laces ensure good fixation of the foot so that foot does not move forward too much when walking downhill.
We wouldn't recommend these for hiking in the rain, but they would be great for a dry hike.
Sizing & Fit: Scrambler Mid feels less spacious on the big toe side, therefore we recommend you to size up half a size of full size, unless your feet are narrow or medium width. Adding some extra length in hiking boots is especially practical for walking downhill or when wearing thicker socks too.
For my foot length of 26.3 cm, I would choose Scrambler Mid at least in size US W10.5 or US M9.5 or even half size bigger to give my feet enough space to move around.
---
Prio Neo
| Men's, Women's | vegan | $99.99 | 120€ |
Prio Neo was a very pleasant surprise for us. We love the update of their best-selling all-around fitness shoe, Prio! New Prio Neo is featuring new sleek design, new thinner, softer and more flexible sole, new colours, but it is keeping Xero iconic tensioning system with strap running from the laces to the heel.
These sneakers are perfect for indoor or outdoor training. They're also great for everyday wear and very stylish, we love them!
Sizing & Fit: The New Prio Neo is another model from Xero with slightly wider fit. Compared to Zelen, it has more space for your pinky toe and less volume above the toes. Wearing size US W11, M9.5 with internal length 27.5 cm, but if you need more space at the tip of your big toe or have slightly wider feet, we recommend sizing up half a size.
---
Glenn
| Men's, Women's | vegan | $129.99 | 150€ |
The Glenn is an excellent choice for men who want to walk in comfort and style. This style for men was much needed in today's barefoot world!
The full-grain leather upper is soft and supple from day one so you can enjoy all day comfort from the moment you put them on. The thin laces allow for easy on-and-off access without any fuss. They are great for a year-round wear and look good in both casual and formal situations.
Available in colours: Black, Black/White and Brown
Sizing & Fit: Glenn is a great fit for different foot volumes. It fits the best to medium wide feet. The person on the photo is wearing size US M11 with internal length 28.7 cm (foot length 27.5 cm).
---
Sunrise
| Men's, Women's | vegan | $69.99 | 75€ |
If you're looking for an easy slip-on that's perfect for quick tasks outside the house, look no further than Xero Shoes' Sunrise slip-ons. They're developed with comfort in mind and are perfect for anyone who needs some help replacing their slides with a healthier option. They're great for camping trips and vacations near the sea or lake—just throw them on and head out!
Sizing & Fit: Sunrise is the perfect shoe for medium wide, low-average volume feet with narrow to average ankles and heels. If you need a little extra space above the instep, removing the insole or sizing up half a size will help. Wearing a US W11 with an internal length of 27.5 cm (foot length 26.3 cm).
---
Alpine
| Men's, Women's | vegan | $159.99 | 180€ |
Apline is a vegan snow boot that is designed to keep your feet warm and comfortable in the winter. Hiking, sledding, after skiing-they will handle it all. They are available in both men's and women's sizes, with visible fur and combinations of colors adding some femininity to women's line.
The tongue is gusseted and sealed against water entry by seams. Laces ensure easy on/off and the boots open widely for easy access.
The sole is thicker and stiffer than other Xero Shoes models but this ensures extra insulation in cold days. They were made for snow and they do this job perfectly, but take note that you won't get much ground feel in those boots–especially if you're used to feeling every pebble through thin-soled shoes or sandals. The lugs on the bottom have deeper grooves to improve traction on icy surfaces but we still recommend using crampons on slippery surfaces.
Sizing & Fit: Alpine can be adjusted to fit a variety of foot volumes and is easy to secure on shallow feet with skinny ankles and at the same time high volume feet can use them too. Men's models are slightly wider than womens. If you need more width/volume, size up half a size or choose between men's models. Wearing size US W11 with internal length 27.5 cm (foot length 26.3 cm).
You can read a detailed review of the Alpine model here.
---
Zelen
| Men's, Women's | vegan | $129.99 | 150€ |
Zelen is a super-breathable, soft running shoe available in lots of colours. It's perfect for warmer months and can be used for all occasions when you want to wear sporty shoes. The sole is soft and squishy and it adds just a little cushioning for running and walking on hard artificial surfaces.
Sizing & Fit: The Zelen feels slightly narrower than other Xero models. It fits the best to narrower and medium wide feet, but you can gain some extra millimetres in width by choosing a bigger size. The shoes also have a lot of space above the toes. Wearing size US W11.5 with internal length 28 cm (foot length 26.3 cm). If your feet are on the narrow side, you can choose less space in front of the toes too (but of course not less than 12mm).
You can read a detailed review of the Zelen model here.
---
Gracie
| Men's, Women's | vegan | $79.99 | 90€ |
Barefoot rain boots have long been in high demand, but recently Xero Shoes has become one of the few brands offering them. This style is not something you would wear on a daily basis (they're hard to secure well on your feet and avoid compensating while walking), but they do a good job when no other type of shoe could do the same work.
Sizing & Fit: Gracie fits best on narrow and medium width feet. We recommend that you size down (wearing a US W11, foot length 26.3 cm) as they would be harder to keep on your feet with enough space in front of the toes.
---
Naboso Trail Sandals
| Men's, Women's | vegan | $109.99 | 130€ |
Naboso sandals are made in collaboration with Naboso® technology for extra foot stimulation. Naboso Trail is a special version of popular Xero Z-Trails sandals. The difference between Naboso and regular Z-Trail sandals is in the footbed. Naboso version is not suitable for longer hikes as the footbed can get irrititating after several hours in hot summer days, but they can be a great option for days when you want to enjoy benefits of Naboso insoles even with sandals.
Sizing & Fit: Use the printable templates to choose the right size. Make sure you print out the template at the right scale. All your toes should be positioned inside the sole outline even when they will reach a healthy splay. Feet with a strong bean-shaped foot can find it more difficult to fit in Xero sandals as their shape taper a little at the big toe side. However, some sandals like Z-Trail can be trimmed to get a better fit too.
Straps allow good adjustability, and sandals can be secured to different foot volumes. Make sure the front strap isn't pushing your big toe inwards! Also, keep in mind that your feet may slightly slide forward while walking (so choose a length that allows all your toes to stay on the sole while walking).
---
Xero Kids Shoes
Xero Shoes is primarly an adult barefoot brand, but they are offering some most popular adult models for bigger kids too.They offer the same level of quality and comfort as their adult shoes, but in smaller sizes. This makes Xero Shoes perfect for kids who want to transition from their old pair of sneakers to something better for their feet.
Purchase & Shipping
Xero Shoes ships worldwide. The cost of shipping depends on the shipping country and the type of shipping provider used.
If you are ordering from the EU, we recommend using their separate EU website. Your shoes will be shipped from a warehouse in the EU and you won't be charged any extra customs fees or taxes in this case.
Conclusion
Ultimately, Xero Shoes can make walking a fun experience again. It's a footwear trend that's here to stay and that has the potential to change the way you think about shoes. If you're looking for an innovative alternative to traditional shoes, Xero Shoes are certainly worth considering.
---